Digital startup trophy: launching your business through a competition
On septembre 21 2020
Télécom SudParis' Incubator, IMT Starter, is launching the 11th edition of the Digital Start-Up Trophy. Deadline for applications: November 2, 2020.
The Digital Start-Up Trophy was created in 2009, born from the desire of three Grandes Ecoles, Télécom SudParis, Institut Mines Télécom Business School and Ensiie, to use their diverse expertise to support digital project shareholders. It is open to innovative business start-up projects and young companies under 18 months old.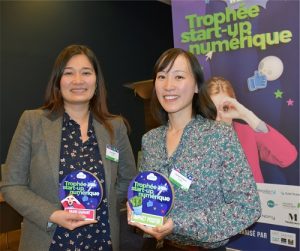 The competition, organized in partnership with Genopole, Deloitte, Magellan Consulting and Showroomprivé, provides support for 4 winning projects with a one-year incubation period at IMT Starter, 6 months of growth within the sponsor company and the equivalent of €100,000 in services, thanks to our partners: BPI France, Alliancy, Société Générale, In extenso, Ricard Ringuier Avocats, Fondation Mines-Télécom, Grand-Orly Seine Bièvre, Nony, Stories Out, Wilco, Reboot Disrupt campus and Maddyness.
The 4 competition categories for start-up projects
How to register
Candidates must register online by filling in the electronic application form, only available at http://www.startup-numerique.fr until November 2, 2020.
The judges will then select 20 start-ups/projects based on their applications and will announce the results on November 4.
The semi-finalists will then have until November 12, 2020 to post their video pitch on the platform. The panel of judges will select 12 startups/proposals for the final round based on this pitch and will announce the results on November 19, 2020.
The finalists will be able to present their project before a panel of judges made up of the category's sponsoring group, entrepreneurs, investors and the ITM Starter management on November 26, 2020.
The awards ceremony will take place on December 2, 2020. You may well be one of the winners!

10 reasons to apply
Invitation to the "Start-up Fair" for the best start-ups/projects.
A support system that has been in operation since 2000: IMT Starter is comprised of 200 start-ups and accompanying companies, bringing together more than 2000 employees.
Coaching sessions with experts, mentors and partner companies
Coaching by a strategic committee with dedicated meetings every two months
IMT Starter is located in Evry-Coucouronnes, on the Grandes Ecoles of Engineering and Management campus.
A rich ecosystem dedicated to the digital world: researchers, engineering and management students, incubator graduates.
Access to financial support via IMT Starter's two financing tools: the Telecom Booster investment fund and the loan of honor from the Mines-Télécom Foundation, of up to €40,000.
An opportunity to join the start-ups applying for the Institut Mines-Télécom's Bercy Innovation Prize in hopes of winning a ticket to the CES in Las Vegas
An incubator partner with SATT Paris-Saclay.
The opportunity to develop your project internationally, thanks to a network of incubators in Europe and the United States and at Institut Polytechnique de Paris Novation Center.