18th Open IMT tennis tournament
On août 9 2021
The IMT Open 2021 Tennis Tournament is expected to be an exciting event that will take place over nineteen days, from September 16 to October 7, 2021.
  "The important thin is to feel emotions on a tennis court"
- Justine Henin -

From Thursday, September 16 to Thursday, October 7, 2021 in Evry, students and FFT-licensed players will compete in the 18th edition of this tennis tournament.
Since 1999, a team of 8 to 10 students (7 in this edition) has been organizing this exciting and lively men's tennis tournament at the core of the international campus of Telecom SudParis and Institut Mines-Télécom Business School in Evry-Courcouronnes city.
The largest tournament organized by students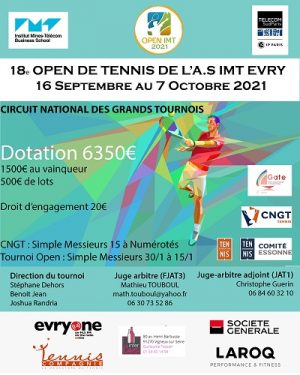 Over the years, the IMT Open has established itself as the largest student-organized tournament in the Ile-de-France region and the one with the highest prize money (€6350 for the 2021 edition). It is certified by the French Tennis Federation. In 2019, it has been integrated into the National Circuit of Major Tournaments (CNGT).
Open to men's singles, it welcomes around 200 participants each year, including players ranked between 300th and 500th in the world professional players' ranking (ATP).
Moreover, the ITM Open is a real-life playing field for experimenting with project-based teaching, which is at the heart of the schools' teaching model. Management and engineering students have the opportunity to bring large-scale projects to life.
Organized as part of the school's GATE® (Gestion et de l'Apprentissage du Travail en Équipe) pedagogical program, the tournament is an opportunity for student engineers from Telecom SudParis Institut Polytechnique de Paris to participate in every aspect of the development of a professional event.
This tournament also represents an opportunity for companies. It provides them with high visibility and privileged access to the students. Tennis Compagnie, Société Générale, Laroq, InterCaves and EvryOne are partners of the 2021 edition.
See more about the Open IMT 2021 GATE® project