404 CTF becomes France's biggest cyber challenge
On juillet 17 2023
404 CTF is the biggest hacking competition in France, with over 3,000 participants for its 2nd edition, held this year. On June 15, the finalists came together at VivaTech, the European trade show dedicated to technological innovation, for the awards ceremony.
Capture the flag
The term "404" refers to the online error message and the acronym CTF stands for "Capture The Flag". The aim of the competition is to invite people interested in cybersecurity to collect as many flags as possible, concealed in code snippets hidden in secure online files.
Jointly organized by the DGSE, Telecom SudParis and its HackademINT student club, OVHcloud, and VivaTech, 404 CTF aims to identify talent to address the shortage of 15,000 jobs in the field of cybersecurity in France.
Participants of all levels
The participants were from all walks of life and included professionals (45%), students (34%), apprentices (10%), high-school students (4%), and retirees. 2,343 people solved at least one of the 20,206 challenges. For 3 weeks, from May 12 through June 4, they tested their ability to exploit a variety of IT security issues through 90 challenges divided into 13 categories, including intercepting and decoding 5G radio transmissions, testing the reactions of printed circuits, and fooling artificial intelligence.
A new category was also added to make the competition more open to beginners: Open-Source Intelligence (OSINT), which involves seeking and analyzing data from freely accessible sources such as news sites and social media.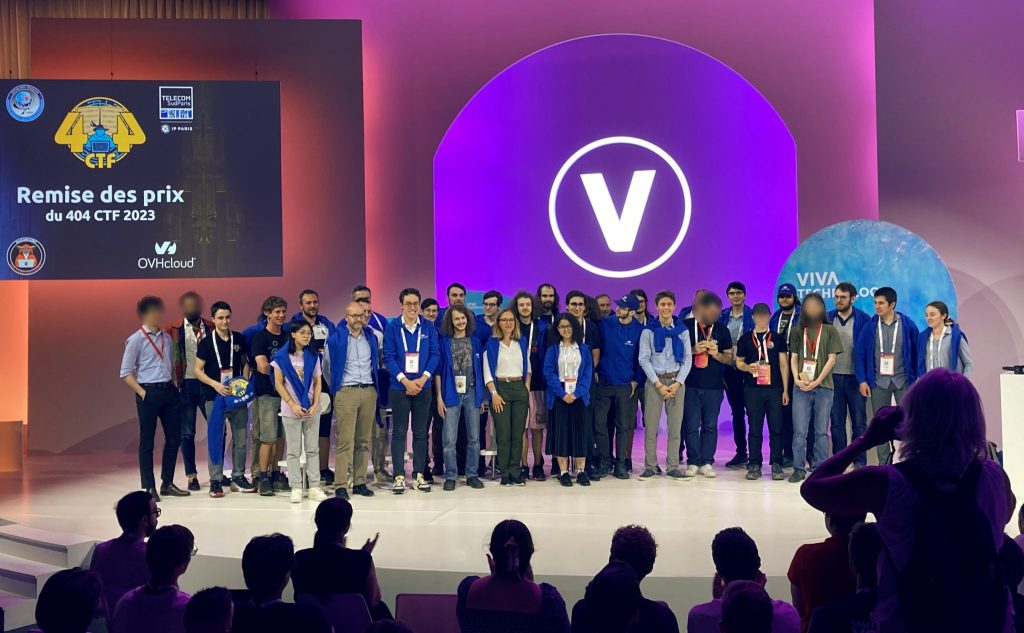 An innovative educational project
404 CTF was designed and organized by first-, second-, and third-year students at Telecom SudParis, supervised by the DGSE and Telecom SudParis faculty, as part of the school's ambition to contribute actively to France's cybersecurity strategy. It is the result of a partnership agreement to promote cybersecurity in teaching, signed by Telecom SudParis, the French Directorate General for External Security (DGSE) and IMT, and is an innovative educational project that aims to respond to the challenges of digital sovereignty.
Many thanks to HackademINT Presidents Quentin Michaud (2021-2022), Julien Ribiollet (2022-2023) and Marie Leclerc (2023-2024), whose commitment has made this achievement possible.