General engineer in responsible digital technology
Today's digital technology demands sustainable and responsible implementation in order to foster progress while preserving the planet. You can contribute to this by choosing training to become a general engineer in responsible digital technology.
The combination of cutting-edge general training and a multi-disciplinary curriculum allows students to build their own custom profile, comprising multiple advanced study pathways, international experience, and immersion in the professional world, etc., for a genuine "made-to-measure" experience!
This general training program leads to a Master's degree in engineering from Telecom SudParis, accredited by the Commission des Titres d'Ingénieur (CTI), with the possibility of dual degrees in France and abroad. Graduate recruitment attests to the fact that this general engineering program is attractive for both French and foreign companies.
A unique course for the responsible engineering student
Teaching takes place over three years and opens up a multitude of possibilities:
First year. Learn the scientific fundamentals with the possibility of choosing a thematic focus to enrich the course (environment, health, entrepreneurship, research).
Students are introduced to project management through the GATE project (management and learning to work in teams) or the IT development project. During the year, students do an internship in a company for a minimum of four weeks to discover the professional world and start to reflect on the type of engineer they want to become.
Second year. The general engineering program allows students to discover fields of in-depth study.
In second year, students gradually narrow down their choice of teaching areas (three, then two, then one) from among the six available (Mathematics, IT and Computer Systems, Network Services and Protocols, Images, Physics, Signals and Communication), to select the one in which they wish to specialize.
Students also discover innovative fields of application by choosing four "openness modules" from a constantly renewed offer and take part in more general activities and seminars designed to exercise their inter-personal skills and leadership (industrial research or development projects and other projects dedicated to entrepreneurship).
Third year. Final year is full of possibilities, allowing students to develop their expertise by choosing from the among the following:
One of the 17 options in the areas of excellence of Telecom SudParis, including Applied Mathematics and Statistics, System and Network Security, Distributed Systems Architecture, Embedded Systems, and Mobility and Smart Devices. → See all our options
A second-year Master's from Institut Polytechnique de Paris in parallel
Or one of the 150 options in another field of expertise within an Institut Mines-Telecom school
Or study for a dual degree in France or abroad.
130 international courses at universities on five continents to continue training and acquire international experience.
Choice of one of the following themes:
Environment
Health
Research
Entrepreneurship
Engineering students who choose one of these themes can focus their internships and projects on the relevant domain.
Training through action
Internships, professional intervention, seminars, industrial projects, challenges, workshops, business creation projects, multi-disciplinary group work… The general engineer in responsible digital technology course immerses students in business reality in order to provide professional experience before their first job. A guarantee of rapid recruitment.
A responsible engineering curriculum
During their course, engineering students learn to:
1. Master the basic scientific concepts related to ecology and the environment.
2. Conceptualize and model the environmental issues of human activity.
3.  Be aware of issues (developments in the sector, infrastructures, uses) and understand the need to develop ecologically responsible digital technology.
4. Understand direct environmental impacts.
5. Identify indirect environmental impacts.
6. Measure the environmental impacts of digital technology through knowledge of methodologies and their advantages and limitations.
7. Compare several services through the prism of their direct and indirect environmental impacts.
8. Design sustainable solutions and services based on their ability to take account of all the environmental consequences of designing new technology, services or digital devices.
9. Analyze and optimize the role of digital technology to place it at the service of the ecological transition (IT for Green)
10. Acquire a lucid understanding of the strengths and weaknesses of a digital service and be prepared to reject it if it is incompatible with responsible development.Au fur et à mesure de son cycle, l'étudiant ingénieur apprend à :
Full employment, a wide range of professions: what are the opportunities after studying at Telecom SudParis?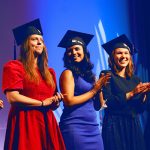 Telecom SudParis graduates have good employment prospects: quick professional integration, equal pay for men and women, some of the highest salaries in France, emergence of new professions, international recruitment, diverse business sectors…
→ See the First Job Survey in 2022
Join a strong network of graduates
A few examples of our 16,000+ engineering graduates worldwide:
♦ Eric Trappier (TSP 1983), CEO of Dassault Aviation
♦ Elodie Viau (TSP 2007), Director of Telecommunications and Integrated Applications, European Space Agency
♦ Jean-Marc Boursier (TSP 1991), Deputy Managing Director of Suez Environnement
♦ Géraldine Thiercelin (TSP 1994), Vice President of Customer Service, Airbus Defence, Spain
♦ Benjamin Orthlieb (TSP 2000), VP & Head Of Corporate Development, LinkedIn - San Francisco
♦ Arnaud Bret (TSP 1990), Director of Business Development and Consumer Services, Amazon
♦ Aurélie Adam Soulé (TSP 2007), Minister of Digital Affairs and Digitization, Benin - Member of the UN on digital financing for the achievement of the Sustainable Development Goals
♦ Frédérique Dame (TSP 1995), Google Ventures Partner - San Francisco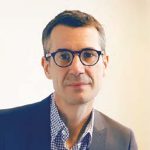 Dominique Pon (TSP graduate, 1992),
Managing Director of Clinique Pasteur, Ministerial Manager for Digital Health
"With all the major societal issues in today's world, there is really something to be said for being able to look back at the end of your career and say: I've done my bit to help build a better world."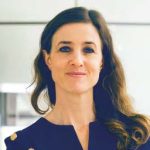 Aurore Ominetti (TSP graduate 2003), IT Security Director, IBM France
"I remember the quality of the teaching at Telecom SudParis. It was quite rich; it was our first real experience of group work. I also remember the many choices of career paths, the diversity of skills, and the different cultures on campus. It was this mix, the projects, and the topics addressed each year that allowed me to build each stage of my career."
→ More info on T&MA, the alumni network
General engineering training with an international dimension
Technology is evolving on a worldwide scale. Our Telecom SudParis school prepares general engineering students on an eclectic campus with a dozen or so taught languages, opportunities for internships abroad, and around 100 options at partner universities on all continents. This cultural mix on our campuses fosters an open-minded outlook in the professional world that is becoming essential for international business.
→ Find out more about the international experience
1 school, 2 campuses for future engineers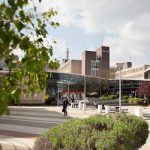 In Evry-Courcouronnes: 7.5 hectares, 900 places in accommodation and a buzzing student life with over 60 clubs and associations. The site is shared with Institut Mines-Telecom Business School (IMT-BS) and offers a fruitful mix of engineering and management schools: a prefiguration of the business world of tomorrow.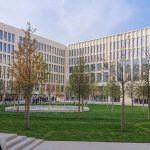 In Palaiseau: 5,000m² dedicated to Telecom SudParis at the heart of the École Polytechnique district. Some third-year options and research activities are located here. With its services, innovative equipment, food and drinks outlets, and sports equipment, the site has all it takes to foster success.
Enrolling on the engineer in responsible digital technology course
The Concours Mines-Telecom exam is open to students from scientific preparatory classes.
The course is also open to students from other, parallel admission programs, such as a Bachelor's degree in science or first-year Masters in a scientific subject.
Find out whether your studies allow you to enroll at Telecom SudParis and discover the admission procedures according to your profile.
→ See the admission requirements
Tuition fees and funding opportunities
The tuition fees are set by ministerial order.
To encourage social diversity, which is one of the values upheld by the school, Telecom SudParis offers financial assistance through grants, student social funds, etc.
→ Find out about funding opportunities
Our Telecom SudParis school is recognized at the highest level of digital science and technology. It offers "made-to-measure" training that prioritizes personalization and individual choice. At the end of their training, our bold engineers with varied profiles contribute to taking up today's challenges in order to build a sustainable and responsible world.