IP Paris : An institute of excellence

Telecom SudParis belongs to the Institut Polytechnique de Paris (IP Paris). IP Paris brings together five prestigious graduate schools with one ambition: create a world-class institute committed to cutting-edge research and excellence in training. The five founding graduate schools embody experience, history and roots, positioning IP Paris as a leading educational institution, both in France and internationally.
The Institut Polytechnique de Paris (IP Paris) is a public higher education and research institution that is formed by five distinguished French engineering schools: École Polytechnique, ENSTA Paris, ENSAE Paris, Télécom Paris and Telecom SudParis. Paired toghether the five schools aim to share theire long expertise and knowledge with two major goals on mind :
Developing training programs of excellence.
Offering to researchers a suitable environment to produce cutting-edge research.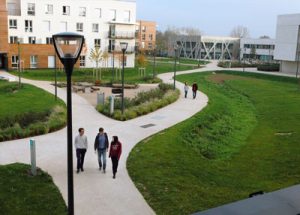 These activities are carried out as students and researchers take on the issues of the major transitions in digital technology, energy, industry and education.
IP Paris is also positioning itself as a world-clas Institute, where each school is leading the march in it's domaine, with notable discoveries in the industrual and technological fields for the last two centuries. In fact the five schools count among their graduates several Nobel Prizes as well as renowned personalities from political, economic and research world.