Values and Policies of Personal Information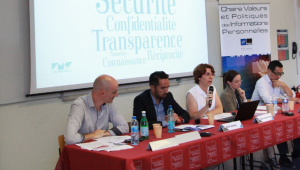 The Chair Values and Policies of Personal Information was launched by the IMT in April 2013. Created in partnership with the Imprimerie Nationale, BNP Paribas and Dassault Systemes, the Chair benefits from the collaboration of the Commission Nationale de l'Informatique et des Libertés (CNIL), the French Data Protection Authority and is also supported by the Telecom Foundation.
The Chair aims to help companies, citizens and public authorities in their reflection on the collection, use and sharing of personal information, such as information about individuals (their personal lives, their professional activities, their digital identities, their contributions on social networks, etc.) including those collected by smart objects that surround them (smartphones, smart meters, etc..).
The Chair is a multidisciplinary research team working on the following aspects:
Legal and regulatory compliance,
Technical security systems and data,
Economics of personal information sharing,
Philosophical accountability and anticipation of the societal consequences.
The Chair is coordinated by Claire Levallois-Barth, Doctor of Law, and co-animated by:
Maryline Laurent, professor of Computer Science at Telecom SudParis,
Patrick Waelbroeck, lecturer in Economics at Telecom ParisTech,
Pierre-Antoine Chardel, lecturer in Philosophy at Telecom Business School.
Contact :

Maryline Laurent
01 60 76 44 42
maryline.laurent@telecom-sudparis.eu
Cybersecurity of critical infrastructures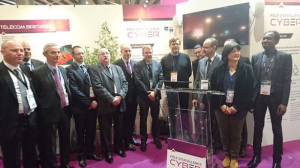 With the support of IMT Atlantique, in collaboration with Télécom SudParis and Télécom ParisTech, together with 7 industrial partners and the Brittany region, as part of the Center of Cyber Excellence, this Chair will contribute to the development of research and training activities at international level in an area that has become a national priority: the cybersecurity of critical infrastructures. The Chair was officially launched on January 25 at the International Cybersecurity Forum in Lille (FIC2016).
A context of national concern
In a world that is increasingly connected and dependent on information and communication systems, many components, such as sensors and industrial automation devices, are now connected to the internet. In this expanded "cyberspace", the cybersecurity of critical infrastructures (water production plants, energy networks, industrial processes, etc.) represents a major concern that has today become a government priority.
It has therefore become a true challenge for French research, as the work currently being carried out this subject is still minor. In this context, the "Cybersecurity of Critical Infrastructures Chair" proposes to gather together researchers specialized in cybersecurity and industrial systems architects in order to propose concrete and scientifically validated solutions.
Dynamically adapt the security of a system to ward off attacks
Currently, security policies for information systems are deployed statically. A method that would allow the dynamic updating of security policies is becoming a necessity. This Chair's goal will therefore be to develop a theoretical and experimental framework for specifying and managing a security policy capable of dynamically adapting to changes in the risk environment.
For this purpose, research work will focus on 4 priorities:
Advanced analysis of data for cybersecurity purposes
Definition of metrics for analyzing security risks
Responsiveness to multiple and coordinated events
Collection and generation of cybersecurity data to be made available
The results could be of interest to several sectors, particularly in industrial control systems, vehicle applications, major communication networks, and cloud computing.
Contact :

Hervé Debar
01 60 76 45 83
herve.debar@telecom-sudparis.eu