Are your from a partner university?
Students from our partner universities can apply for an exchange or a double degree mobility. To make sure that your university is a partner of Télécom SudParis, you will need to check our list of partner institutions and universities.
if you do not study in one of our partner universities, you can come to Télécom SudParis but you will have to pay fees.
Mobility at Télécom SudParis
You can apply for :
Exchange mobility: one to two semesters
Double degree mobility: three to four semesters to obtain our Master in Engineering in addition to the diploma of your home institution
Our MSc Data Science and Network Intelligence : two semesters
Final year project : 2 to 3 months
What can I study at Télécom SudParis ?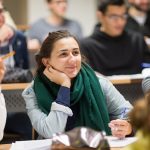 Exchange and double degree students can take courses from :
Besides, students can also apply to the Masters delivered by IP Paris, almost exclusively taught in English
What are the requirements?