Study abroad and Exchange program
Telecom SudParis has built up a vast network of partnerships with elite universities and engineering schools all over the world. Twice annually we send out an update to all partner universities containing full details of the exchange programs currentlly available to international students, along with information regarding the application procedure and applicable deadlines.
→ The International Relations Office
The International Relations Office
Welcome to Telecom SudParis!
It is our great pleasure to welcome you to Telecom SudParis! We hope that this experience will be rewarding and worthwhile from both an academic perspective and as a rich immersion among the different nationalities, cultures and languages that you will find on our campus.
The International Relations Office is very much aware of the challenges and hurdles involved in study abroad, not only the paperwork but also adapting to a new and unfamiliar working environment far away from home. It will be our greatest pleasure to accompany you as you make the transition and throughout your stay at Telecom SudParis.
This International Supplement to the Telecom SudParis Student Guide provides information concerning the administrative procedures that are required to facilitate your integration in France and at Telecom SudParis.
Enjoy your stay!
From all of us at the Telecom SudParis International Relations Office
Email: international@telecom-sudparis.eu
Katherine Maillet, Director
Stephane Maag, Deputy Director and Academic Counselor
Natasa Pele, Development Officer and International Scholarship Coordinator
Stephanie Marmion, Internationlization Officer
Are your from a partner university?
Students from our partner universities can apply for an exchange or a double degree mobility. To make sure that your university is a partner of Télécom SudParis, you will need to check our list of partner institutions and universities.
if you do not study in one of our partner universities, you can come to Telecom SudParis but you will have to pay fees.
→ For more information, please consult our latest Factsheet:TSP Factsheet AY 2023-24
Mobility at Telecom SudParis
You can apply for :
Exchange mobility: one to two semesters
Double degree mobility: three to four semesters to obtain our Master in Engineering in addition to the diploma of your home institution
Our MSc Data Science and Network Intelligence : two semesters
Final year project : 2 to 3 months
What can I study at Telecom SudParis ?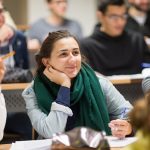 Exchange and double degree students can take courses from :
Besides, students can also apply to the Masters delivered by IP Paris, almost exclusively taught in English
What are the requirements?