Everything needed to ensure your success
Both historically and due to the nature of the schools, digital technology plays a central role in our information management and the deployment of teaching methods.
80 seminar rooms equipped with projectors and interactive whiteboards
8 videoconference rooms
10 practical work rooms
100 All In One computers
WIFI is available throughout campus
100 CISCO terminal servers
1 personal computer account
1 personal storage space
educational printing allowance
personal Digital Workspace accessible 24 hours a day, 7 days a week
Using digital technology for pedagogy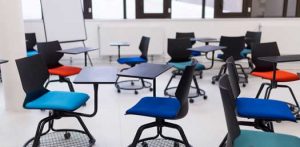 Our digital facilities include:
More than 80 seminar rooms equipped with video projectors and interactive whiteboards
Mini-lecture theatres with the option to record the lessons
3 large lecture theatres that can be connected and allow for streaming
A digital display system covering about twenty screens on campus; it can show which lectures are being given in each faculty building, and the RER D timetables once lectures have ended
Eight video conferencing rooms as well as private video and web conferencing solutions are available on campus.
The co-working space has project and pedagogical innovation rooms which are also equipped with display and communication devices that encourage the proliferation of ideas and creativity.
Computer resources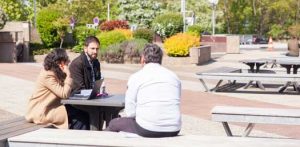 The computer facilities consist of 10 practical work rooms, comprised of more than 100 All In One computers all less than 4 years old, which can be used by students with open access when they are not reserved for classes.
These rooms offer the opportunity to work with Windows and Linux operating systems and are accompanied by about twenty specialized laboratories, including:
a trading room
two language laboratories
two multimedia rooms equipped with Adobe software.
More than a thousand devices and 60 servers are managed by the school's IT system department.
WIFI on campus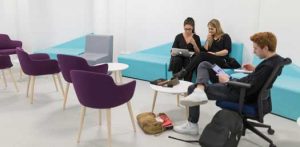 WIFI is available throughout the entire campus (including the sports hall and the cafeteria), covered by 100 CISCO hotspots.
The Eduroam Community WIFI network is configured, enabling students to access WIFI networks in nearly every European and North American university using the same credentials.
The machine room houses the center of the Evry metropolitan network, providing 10Gb of connectivity to Télécom SudParis.
Computer bundle available to all students
Each student receives a digital package upon arrival on campus, which includes:
A personal account, allowing them to access all the various platforms at their disposal (Windows, Linux, WIFI, applications...);
A personal storage space with backup and recovery services;
A Dropbox type file sharing space with backup and restoration services;
A mailbox, a personalized calendar synced with your course timetable and contact databases as well as lifetime access to your email;
Access to integrated pedagogical areas in Moodle and discussion forums as well as a video library for online classes;
Access to administrative information (certificate of attendance, scholarship, etc.) and to pedagogical monitoring (course catalogue, online choices, report card, etc.);
An educational printing allowance with a bonus for duplex printing allowing students to print, photocopy and scan in BYOD mode on one of the 4 large photocopiers available.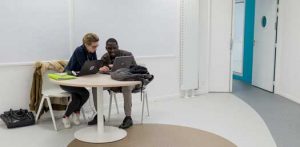 All these services are integrated into a customizable Digital Workspace accessible 24/7 on or off campus.
Physical access to rooms, the multimedia library and restaurant is possible using a student card.
Additionally
Telecom SudParis has also negotiated offers with various partners and software publishers. We grant access to a wide range of software (Microsoft, SAS, Matlab, etc.).
As of integration week, first-time students are presented, in teams, with a digital challenge consisting of 10 steps built into Moodle, allowing them to discover all the digital tools and services they will use throughout their schooling in a playful manner.
A BYOD workshop will expand on this pedagogical method; allowing students to configure their devices (smartphones, laptops...), to access WIFI, as well as their mailbox and their course timetable.
Throughout the year, the Télécom SudParis DISI (IT support services) offers students multimodal support available in person, by phone, email or via a ticketing system.