Multimedia library in figures
30,000 documents (books, essays, market research, novels, comics, etc.)
Around 50 subscriptions to paper journals
20,000 electronic journals (from databases such as IEEE Xplore, Science Direct, Business Source Complete, Europresse, Factiva...)
+30,000 e-books (ENI, Scholarvox, DawsonEra)
Statistical, financial and legal digital resources
500 market research studies
Loan of tablets and e-readers
60 seats
1 computer room
A connected multimedia library
The Telecom SudParis multimedia library is solely for students and staff of Telecom SudParis and Institut Mines-Télécom Business School.
It provides them with a specialized archive covering 4 major themes:
Engineering sciences
Management, Marketing and Finance,
Language learning
General culture and leisure (novels, comics…).
Our collection of books (100,000 works) is referenced in the Arc'entel Catalogue of libraries of the Institut Mines-Télécom.
Enjoy personalized library assistance
Do you need to write a paper, do further research, write a bibliography or research a particular topic? The librarians are at your disposal to help you.
The catalogue is accessible on the Internet, with digital resources accessible from on-campus devices, but also off-site, anywhere, anytime, via the digital work environment
What if the multimedia library does not have the work you are looking for?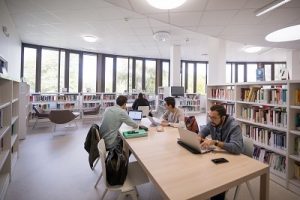 The Interlibrary Loan (PEB) service allows you to request documents from other libraries either from the library premises or via a form on the website.
Interlibrary loan documents can be picked up and returned to the multimedia library.
You can also submit a purchase suggestion via a form on the website