Karolina Gorna in the realm of spatial data
For the past year, Karolina Gorna, a second-year engineering student at Télécom SudParis, has led Kryptosphere, the first student association specializing in blockchain and new technologies. She is passionate about space and spatial economics and was chosen by NASA as community lead for Space Apps Challenge Paris 2020.
What is the NASA International Space Apps Challenge ?
The challenge is part of a NASA incubation program and is the largest international hackathon. The event gathers participants from around the world for one weekend of creating computer applications. This year, it brought together 26,000 participants from 150 countries and territories. The goal of the challenge is to utilize data collected by satellites to solve practical problems on earth or in space.
What makes this challenge unique is that all the data provided by the five partner space agencies–NASA, CSA, CNES, ESA and JAXA–is open source and therefore publicly available. Such large amounts of data are not easy to process. The NASA International Space Apps Challenge therefore provides the opportunity for boosting contributions to science from citizens through a variety of challenges.
What does a community lead do?
The community lead is the person or people who organize the NASA Space Apps Challenge in a given location in the world. There are as many community leads as participating cities, which was 251 this year. I have had the pleasure of sharing this role with Julie Martin, who joined me as community lead this year. For a month and a half, we participated in weekly online meetings with the other community leads around the world. These meetings allowed us to learn all the organizational procedures for the event, from managing the website to using offers from global contributors and online platforms.
France organized a Space Apps Challenge in 2014, but we had to take over all the management, including creating social networks and organizing opening and closing ceremonies that could be available for replay on (KRYPTOSPHERE Student Society channel). Now that the results of the challenge are available, we are assisting the 2 winning projects, EDD and X-antenna, in the next phase. They are now competing with the winners from the other locations for global winner titles by category, to be announced in January 2021.
How were you chosen to organize Space Apps Challenge Paris?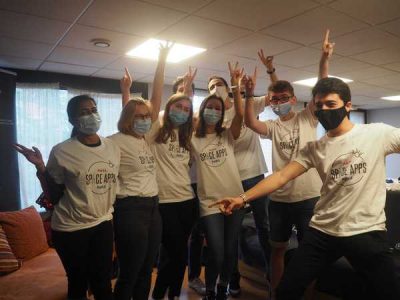 It's a pretty strange story, since the hackathon is not very well known in France. Last spring, we were working to organize a round table discussion for Kryptosphere on the future of new technologies in Africa. I looked at the LinkedIn profile of one of the speakers and saw he had won an award at a Space Apps Challenge held in his city.
I did some research and found out that you can apply to organize this challenge in your own city. I immediately applied to host one in Paris. I was even more surprised to learn that France had not participated in the challenge in recent years, whereas our neighbors, Italy and Spain, each had over ten locations. In early August I was informed that my application had been accepted. That marked the start of the adventure.
How has Covid affected this year's edition?
NASA wanted to find a solution for maintaining the event despite health restrictions. The American space agency therefore tested a special, entirely virtual Covid challenge, which proved successful. The 9th edition of the Space Apps Challenge was therefore an all-virtual event, based on this test model. We used the Rocket.Chat platform and a Discord and Slack server to interact with participants and each other. The experience was certainly different from previous years, but all the emotions and joy were still there.
Was Space Apps Paris 2020 a success?
In France, we had 114 people registered, including 64 participants divided into 20 teams during the 39-hour hackathon. By comparison, locations that have frequently hosted the hackathon in the past, such as Brescia in Italy, whose community lead recently led a Tedx conference, had 60 participants. We are therefore quite happy with our results.
It was touching to see how the entire event fostered diversity and sharing: for example, during the hackathon weekend, we were invited to join a live event hosted by the community lead in Islamabad, Pakistan! Finally, the true success was working together as Kryptosphere members to coordinate the project: Julie, of course, and Louis, Anne-Sophie, Aymeric, Luka, Thurshani and Anas. It was truly a team effort!
Would you like to organize it again?
Definitely! We have already registered for next year. We're hoping the next edition will be held in person, or at least as a blended format. We will certainly draw on this experience and make every effort to ensure the 10th edition of the International Space Apps Challenge in Paris is unforgettable. This is more than a hackathon. It is an inspiring intergenerational event, and we will continue to keep the fire alive.