PROCCI Week, Behavioral and Communication Profiles
On novembre 3 2020
"PROCCI" Week, the French acronym for "Behavioral and Communication Profiles", will be held from November 16 to 20, 2020. This educational program for third-year engineering students includes several workshops and training sessions. They all have a common goal: getting to know each other better to work together more effectively.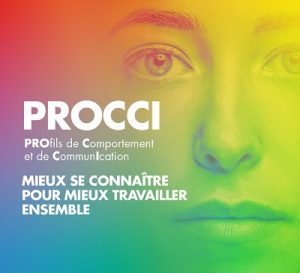 It's no secret that tensions can arise in working groups, schools and companies. To address these situations more effectively, PROCCI week will help students understand the experience of working in a group and personality differences.
Several activities led by specialists in behavioral psychology will facilitate this learning. The goal is to provide future engineers with tools for managing human relations.
This year, PROCCI will provide training to 165 student engineers in their final year on a paradigm widely supported by conventional wisdom: Interacting with others as we would want them to interact with us.
A cross-disciplinary event using innovative methods
PROCCI, coordinated by psychotherapist Alexandra Beucler and Télécom SudParis research professor Michel Simatic, will help students better understand the behavior of individuals with complex and even "difficult" personalities.
A variety of innovative educational methods will be used. Students will also practice speaking in public using the VocaCoach application. This solution offers the public with tools for improving oral communication. PROCCI week will also include role playing games and workshops to allow students to use the knowledge they gain during the training.
Program:
Monday, November 16: 
9:00 AM-12:00 PM: PROCCI Introduction with Michel Simatic;
1:15 PM-2:30 PM: Conference: "Managing people means building connections" with Isabelle Vandenbussche-Masclet,author of a book on empathy in management, L'empathie pour manager demain ; du management au leadership (Editions Dunod, May 2019);
2:45 PM-3:45 PM: Introductory Process Communication course
Tuesday, November 17:
Day devoted to the DISC model;
Practice speaking in public using the VocaCoach application, from a start-up created and developed by 4 students from Télécom SudParis;
Job interview practice with VocaCoach and, for each student, a 20-minute mock interview with a recruiter;
6:15 PM-7:30PM: round table discussion on "Cultivating diversity", which will include the following topics:
- "Role of women in businesses" with Sébastien Marcel, Head of very small business accounts for BNP Paribas,
- "Disability and Digital Accessibility" with Margaux Court, Disability Officer for Nestlé France and Philippe Trotin, Inclusion and Digital Accessibility Director for Microsoft France.
Wednesday, November 18:
Practice speaking in public, continued;
Mock interview, continued.
Thursday, November 19:
Morning: Seminar on "Managing difficult personalities" based on a book on this topic by François Lelord and Christophe André: Comment gérer les personnalités difficiles;
Afternoon: Work in groups of 6 on a nano-project to put all that was taught during the week into practice.
Friday, November 20:
Morning: Defense of nano-projects.
Five partners will participate in this year's edition.