Telecom SudParis invites you to celebrate Erasmus Days 2021
On septembre 20 2021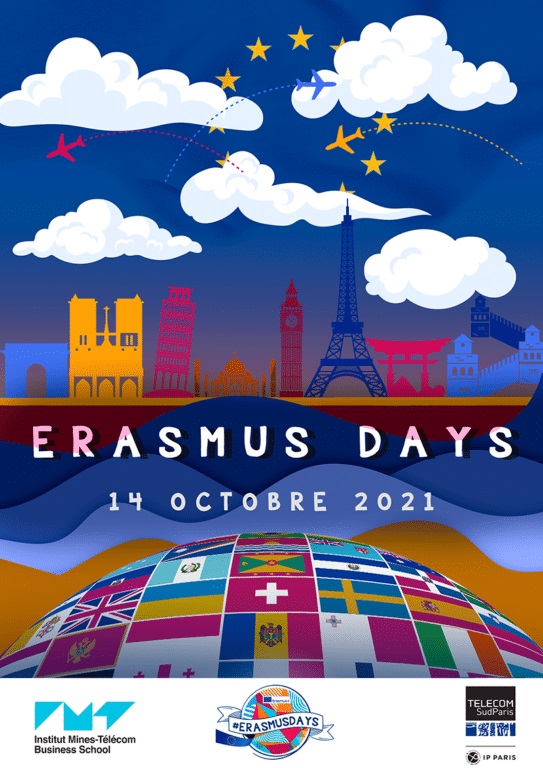 Telecom SudParis celebrates Erasmus on October 14 and 15, 2021. Come and listen to the stories of students, graduates and teacher-researchers who have experienced this exciting international adventure during the Erasmus Days. Two days to highlight the success of European and international mobility.
On Thursday, October 14 on our Evry-Courcouronnes campus and Friday, October 15 on the Ecole Polytechnique campus with the Institut Polytechnique de Paris schools, join us to hear the testimonies of alumni, students, teacher-researchers, managers of major Erasmus+ projects and school staff who have benefited from Erasmus+ mobility.
Indeed, the Erasmus+ program also offers opportunities to administrative and academic staff who wish to carry out teaching, training, observation periods, etc. In addition to these mobilities, many opportunities for collaboration exist, such as :
Erasmus Mundus Master Conjoint,
Knowledge Alliance,
International Credit Mobilities, etc.
Program of Thursday 14 October 2021
Location: 9 rue Charles Fourier, 91011 Evry-Courcouronnes
Students and alumni come and talk about their successful international experiences. Choice of studies, country, discovery of cultures to live a great experience thanks to Erasmus...
8h30-9h00: Welcome breakfast with our international students and the Welcom' association
9h00-9h30: Opening session, the ERASMUS grant (study and internship mobility)
9h30-12h30: Round tables (learn about the ERASMUS destinations, feedback from students/alumni)
12h30-13h30: Meetings in the forum: stands, exhibitions, animations organized jointly with Institut Mines Telecom-Business School.
Program of Friday, October 15, 2021
Location: Ecole Polytechnique, Route de Saclay 91120 Palaiseau
This session is intended for teacher-researchers. Numerous feedbacks on ERASMUS projects will shed light on the conditions of departure, the types of projects and the practical modalities. Organized by the Ecole Polytechnique, this day is common to all IP Paris schools.
 Presentation of Erasmus programs: ERA MIC, Erasmus Mundus Joint Masters Degree, Knowledge Alliances, Staff Mobility, etc.
Feedback from teachers-researchers, project leaders and "staff mobility".
2:00 pm - 4:00 pm in the Grand Hall cafeteria:
| | | |
| --- | --- | --- |
| | Hervé DEBAR | Key Action 2 - Cooperation among organizations and institutions: Partnerships for Innovation, sector alliances for skills - REWIRE project |
| | Nesma HOUMANI | Key Action 2 - Cooperation among organizations and institutions: Partnerships for Innovation, SECTORAL ALLIANCES FOR SKILLS - INNAB Project |
| • 14h30 – 14h45 | Joséphine KOHLENBERG | Key Action 1 -ERAMSUS TEACHER'S MOBILITY - ROMANIA |
| • 14h45 – 15h00 | Natalia KUSHIK | Key Action 1 - ERA MIC –Credit mobility, RUSSIA |
| • 15h00 – 15h15 | Anis LAOUTI | Key Action 1 - ERA MIC – Credit mobility, MALAISIE |
| • 15h15 – 15h30 | Mounia LOURDIANE | Key Action 1 – ERASMUS MUNDUS – Joint Masters - SMARTNET project |
15h15/30-16h00 approx. : QUESTIONS / ANSWERS