The digital transition, a lever for ecological transition?
On février 20 2020
As the Fondation Mines-Télécom launches its new monitoring cycle dedicated to the impact of digital technology on the environment, the link between "Digital" and "Environment" is raising an increasing number of questions. With "Energy4Climate", the Institut Polytechnique de Paris is tackling the challenge of energy transition head on. Télécom SudParis has made a strong commitment alongside teacher-researchers from 25 laboratories. Michel Marot, Professor at Télécom SudParis and member of the E4C (Energy for Climate) management committee, presents this programme.
Master's and doctoral training for tomorrow's energy leaders
Energy4Climate (E4C) is a major multidisciplinary research centre focusing on the energy transition. It was recently created by the 5 founding schools of the Institut Polytechnique de Paris in June 2019.
Energy4Climate has been selected as a EUR (Ecole Universitaire de Recherche) and offers top-quality teaching to train the leaders in the energy of the future. Several courses based on engineering and entrepreneurship are offered to Master's and PhD students. The teaching is backed up by research: these two aspects are thus strongly intertwined.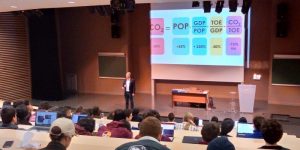 A multidisciplinary centre devoted to the energy transition
With 25 laboratories1 Energy4Climate covers all energy and climate disciplines. This includes physicists and chemists interested in energy storage or working on photovoltaic panels, climatologists and meteorologists, mathematicians and economists interested in analysing data related to energy networks, and others like us who work on information systems, telecommunications networks and security.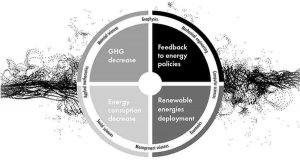 Some research work is reported to inform policy decisions. Philippe Drobinski, founding director of E4C, is an active member of the IPCC. E4C is a large ensemble, both in terms of its laboratories as well as its staff and disciplines. It is concerned with climate change and energy transition.
Graduates involved in the field and on projects
E4C also brings together a fairly large economic ecosystem. In addition to researchers, stakeholders also include companies, and especially school alumni networks. "The high level of involvement of graduates in the field enables us to interact. Many partner companies with a long-standing commitment to schools are setting up energy-related projects with us." explains Michel Marot.
The construction of the Bachelor's building on the Ecole Polytechnique campus was financed by Total. "This building has been designed to analyse energy use, observe user behaviour, but also to involve students in projects to observe, measure, design and optimise energy systems" says Michel Marot.
Digital technologies for energy transition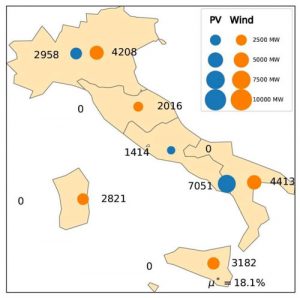 Within this large ensemble, the teacher-researchers at Télécom SudParis are providing their expertise in digital technologies. "Take the example of the power grid. Renewable systems such as wind turbines or photovoltaics are intermittent sources of energy by nature. How can we coordinate these intermittent energy sources with consumers, or other entities such as storage or the grid (i.e. the network operated by the energy supplier)?" explains Michel Marot.
"For this to work, you obviously need an information system to retrieve data and an optimal control system. In short, digital technologies. This involves expertise in networks and security - and is obviously fundamental to ensure that information is not altered, and to ensure privacy." 
Data analysis at the heart of behavioural analysis
Historically, the telecommunications sector has developed a number of models to study the behaviour of telecommunications networks. "These models naturally apply to the study of power systems because, whether it's information flows or energy flows, conceptually it doesn't make much difference." explains Michel. Moreover, in processing and using information, we may also look at the type, or the sense of the information conveyed. The discipline brought in to do this, data analysis, is applied to electricity networks: for measuring production, consumption and behavioural analysis.
Trying to influence behaviour to make it more energy efficient involves exploiting all these masses of data. Big data, statistics and automatic learning are areas in which the teacher-researchers at Télécom SudParis have expertise. "Our legitimacy stems from our expertise in all aspects of the information system (IS) in the broadest sense, information transport, processing, security, data exploitation and optimization."
Energy, telecoms and the weather, experts joining forces
To contribute to the energy transition, the skills mobilised are naturally multidisciplinary, as is perfectly illustrated by the Peper project2 recognised by DATA IA. How can production, consumption and storage be made to cooperate for a better use of renewable energies? Teacher-researchers from three disciplines, electrical engineering, telecommunications and meteorology, have decided to combine their expertise. Their goal is to introduce artificial intelligence into the information systems of power grids to make them viable by optimizing them.
Michel Marot says: "We also have operational complementarity, since the data comes from two sites: the DrahiX building at Ecole Polytechnique and the Maison des Elèves at Télécom SudParis. On the one hand, we measure the consumption of an incubator, i.e. a tertiary building, and on the other, that of a student living space. Consumption patterns are radically different."
Context is also important. Research needs a specific context to be conducted: platforms, equipment, etc. With E4C, the funds raised are earmarked for studies on energy transition and climate change.
Just like the training: "Although it is approached in all disciplines as a case study, the energy transition is not in the historical framework of our teaching, which is why it is very important to enrol in the Energy course at the IP Paris doctoral school. This contributes to structuring our training around energy."
1. CEREA (ENPC & EDF), CERMICS (ENPC), CIRED (UMR 8568), CMAP (UMR 7641), CREST (UMR 9194), HM&Co (ENPC), I3 (UMR 9217), IMSIA (UMR 9219), IPSL (FR636), IPVF (UMR 9006), LADHYX (UMR 7646), LCM (UMR 9168), LHSV (ENPC, EDF, CEREMA), LIX (UMR 7161), LMD (UMR 8539), LMS (UMR 7649), LPICM (UMR 7647), LPMC (UMR 7643), LSI (UMR 7642), LSO (UMR 7652), LTCI, SAMOVAR (UMR 5157), UCP (ENSTA), U2IS (ENSTA), UMA (ENSTA).
2. Florence Ossart, professor at the Laboratoire de Génie Electrique de Paris (CNRS, CentraleSupélec, Paris-Sud University, Sorbonne University), Hossam Afifi, professor at Télécom SudParis and Jordi Badosa, École polytechnique project manager at the Laboratoire de Météorologie Dynamique (CNRS, École polytechnique, ENS Paris-Saclay, Sorbonne University)