Advanced Master's in Networks and Services
This Advanced Master program is taught 75% in French and 25% in English.
Become an expert in network architecture and related services
The convergence of networks (voice and data) and computing naturally results in the creation of new types of services and applications, the development of network architecture and new uses (big data, connected objects (IoT), security, cloud computing and interoperability)
Companies must be able to continuously update these components to offer new services built on the latest technological advances.
Presentation of the program
The objectives of the program
| | |
| --- | --- |
| Start of the next academic year: | September 27, 2023 |
| Registration opens: | October 30, 2022 |
| Additional information: | This part-time postgraduate program allows participants to continue their professional activities. |
This program addresses the challenges of networks in general, regardless of the business sector or profession, and specifically for networks of the future.
This Advanced Master's teaches you the skills you need to develop, deploy and manage modern network architecture, including:
key technologies for core and access networks, their deployment and interconnection,
very high-speed technologies, FTTH, IoT, 5G,
engineering tools for networks of the future: cloud computing, modeling and simulation tools,
optimizing the quality of services and applications
The Advanced Master in Networks and Services aims to respond to job market needs by offering technical skills and a comprehensive understanding of the issues involved in this field:
Target careers:

• Network Expert, Network Consultant
• Network Architect
• Network Administrator
Who is this Advanced Master's for?
• Professionals and recent graduates in the fields of telecommunications, computer science, electronics, security
Prerequisites: 
• Good technical knowledge of networks (TCP/IP) computer systems
• Proficiency in French and technical English
• An engineering degree or five-year degree (Master's, DEA, DESS) in the field of computer science or a related field, or a lower degree supplemented by solid professional experience (see our Admission requirements for more information)
The program
The course pace is designed for students and professionals to allow them to continue their professional activities at the same time.
The program implements an innovative teaching model.
It alternates in-person training sessions on campus with remote working sessions:
In-person group sessions on various themes from the curriculum (3-5 consecutive days per month, over 2 semesters)
MOOC, remote work and in-person on campus.
It includes a mandatory corporate assignment lasting a minimum of 4 months full-time. This assignment begins after completing the first semester.
The program is divided into two stages:
A 9-month part-time academic curriculum
A 4–6-month corporate assignment (minimum of a 4-month full-time equivalent).

The corporate assignment and professional thesis
Duration: 9 months
The academic curriculum is divided into two semesters:
The technical foundations of knowledge and know-how in networks and services: 625 hours (Network Architecture, Services and Internet, Technical Project Management)
Operational expertise in Networks and Services: 500 hours (Quality of service of a network, Very high-speed core and access networks, Research & development project)
This course alternates lectures with practical work and small group projects in the fields of telecommunications and mobile networks, while also incorporating online courses and individual and group work.
THE TEACHING TEAM
Head of the Advanced Master's program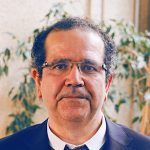 Abdelwaheb MARZOUKI
Associate Professor
Director of Studies
Networks and Mobile Multimedia Services Department
E-mail : @abdelwaheb.marzouki
Courses are taught by research professors specialized in their field and business experts from recognized companies in the sector:
AIRBUS DEFENCE & SPACE CYBERSECURITY • ARCEP (Autorité de Régulation des Communications Electroniques et des Postes) • ATEXIO • BARREAU DE PARIS • BOUYGUES TELECOM • BYWARD • CISCO • ETSI (European Telecommunications Standards Institute) • GFI • GROUPEMENT DES CARTES BANCAIRES • HARMONIE TECHNOLOGIE • MITEL • NOKIA • ORANGE • PAYCERT • SOLUCOM • STORMSHIELD NETWORK SECURITY • XTEL.
Graduation
The "Expert in Network Infrastructure and related services (MS)" is:
⇒ Registered with the Frances Compétences directory of professional certifications under the number RNCP36854
⇒ An Advanced Master's accredited by the Conférence des Grandes Écoles
Students must successfully complete each of the six skill units included in the program order to graduate:
unit 1: Lead a technical project in the field of networks and telecommunications
unit 2: Design network architectures
unit 3: Plan, deploy, monitor and secure networks
unit 4: Analyze and control the quality a network's service
unit 5: Develop very high-speed core and access networks
unit 6: Lead an R&D project in modern networks and telecommunications
Professional thesis: completion of an assignment for a company, writing and defending a professional thesis on the assignment completed
Please see our Accreditation of Prior Learning page for more information on earning a degree or certain skill units through the accreditation of prior learning process.
See the France Compétences website for more information: https://www.francecompetences.fr/recherche/rncp/36854/
Admission requirements
General entry requirements
Applicants who hold any of the following degrees are admissible:
- Engineering degree accredited by the Commission des Titres d'Ingénieur (CTI list)
- Business school degree from an accredited French national Master's degree program (CEFDG list)
- Postgraduate degree accredited by university authorities (DEA, DESS, Master's) or a five-year professional degree
- M1 or equivalent degree for auditors with at least three years of professional experience.
- Degree registered as RNCP level 7(formerly classified as level I)
- Foreign degree equivalent to the French degrees listed above.
 We will equate older degrees which are no longer awarded with those that have replaced them, if applicable.
Exceptional entry requirements
A) Up to a maximum of 40% of the class for in the Advanced Master's program in question may be admissible after completing an Accreditation of Personal and Professional Experience procedure for applicants with a minimum of 5 years of professional experience which can be proven to relate to professional skills covered by the program (excluding internships, gap years and initial work-study programs).
For this admission pathway, a description of the Accreditation of Personal and Professional Experience procedure with information enabling an assessment of the applicant's knowledge, methods and expertise must be provided, including the composition of the teaching commission and any components of the procedure that are relevant to the program.
B) By way of derogation, for a maximum of 30% students in the Advanced Master's program in question, applications from students who have earned one of the following degrees will be eligible:
- Level M1 successfully completed or equivalent without professional experience
- L3 degree with proof of at least three years of relevant experience
The total percentage of the derogations provided for in (a) and (b) above may not exceed 40%.
An admission board is in charge of selecting applicants in several stages:
1/ Application review: verification of the degree requirements and content of the initial training and/or nature of the professional experience.
2/ Online test: verification of the prerequisites for the program
3/ Interview: applicants who pass the test will be invited to an interview with a director of studies
Applicants who are currently completing their studies and have not yet received their final diploma may be admitted subject to the presentation of a certificate of achievement or diploma prior to their administrative registration.
For the 2023-2024 academic year:
- €8,000 for individual applicants, students and job seekers.
- €11,500 for applicants presented by a company.
Any program started will be due in its entirety. Prices are net of taxes and subject to a contract or training agreement.
The contractual conditions are included in the financial appendix attached to the application.
This program is eligible for funding by the French professional training fund, CPF
Funding solutions are available ⇒ Find out more (fr).
Pour l'année 2023-2024, ils sont de :
- 8000 Euros pour les candidats individuels, étudiants et demandeurs d'emploi.
- 11500 Euros pour les candidats présentés par une entreprise.
Tout cycle commencé est dû dans sa totalité. Les prix sont nets de taxes et font l'objet d'un contrat ou d'une convention de formation.
Les conditions contractuelles figurent à l'annexe financière jointe au dossier de candidature.
La formation est éligible au CPF
Des solutions de financement existent ⇒ Renseignez-vous.
How to register?
1. Submit your application
Opening of applications for 2023: October 30, 2022
Click the link below to request an application.
Submit it by email.
Only complete files will be reviewed.
2. Follow the admissions procedure
Take the online test to confirm your level.
Telecom SudParis will send you the connection link.
You attend an interview with the director of studies.
Telecom SudParis will make your appointment by phone or videoconference.
The admission board will meet and communicate the list of eligible applicants
Meetings of the admission board are scheduled each month, from January to June 2023. The admission board will meet for a final session during the summer of 2023 to rule on specific cases.
3. Confirm your arrival and prepare your registration
Sign your training contract and pay the first deposit on your tuition
If necessary: book your accommodation and apply for your visa
4. Complete your administrative registration
Finalize your administrative formalities.
You will receive your registration certificate and your notification letter.
5. Start the program
Start of the academic year: September 25, 2022 on the Évry campus.
We advise international students to start the necessary procedures as soon as applications are opened (campus France procedure, visa application, accommodation with a longer wait period).
Please note: on-campus housing is limited. Please be sure to apply very early if you want to live on campus at the Maisel Student Residence. You will find a list of other possible accommodations in your application file.
International students must also check if they are required to file a request with Campus France: Which countries are covered by the Study in France procedure | Campus France