COVID-19 information
On août 31 2021
You will find below the list of measures taken by Telecom SudParis in the context of circulation of the COVID-19 coronavirus on our national territory. The instructions evolve with the epidemic, which is why the list of measures is updated regularly, according to the instructions of the health authorities and ministries, as well as the situation on campus.
Last updated on 31/08/2021 
Measures related to education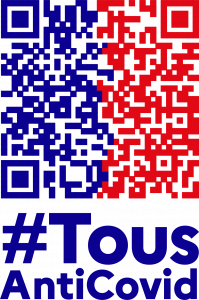 Starting this fall, Telecom SudParis welcomes students up to their overall capacity.
Specific measures for distance learning in the classrooms or hybrid courses may be taken depending on the evolution of the health situation.
These practical arrangements for courses can be consulted on Moodle.
Examinations
Exams can be organized in class or remotely. It is reminded that Covid+ students or contact cases who are called to an exam during their isolation period cannot take part in it.
Therefore, in order to encourage respect for their isolation, and thus to ensure the health safety of all students taking the exams and of the agents responsible for supervising them, Telecom SudParis is required to organize substitute sessions for those subject to isolation.
International students and researchers arriving in France
France has taken steps to ensure that you can join Telecom SudParis in complete safety. Depending on your country of origin and your vaccination status, the procedures for coming to France are different.
In the current health context :
Advice on the use of computers
The current health crisis is leading us to increase our use of digital services. Find out how to use computers in times of crisis from teacher-researchers at Telecom SudParis.
Official documents
The various school, personal and professional travel certificates are available on the government website https://www.gouvernement.fr/info-coronavirus.
Digital services to protect yourself and others from Covid-19:
If you need to be tested, locate the nearest sampling locations on the Santé.fr website by typing "dépistage covid".
To be notified in case of risky contact and to warn those you have met if you are positive, download TousAntiCovid.
Depending on your situation, you can receive personalized advice on how to deal with Covid-19 by visiting MesConseilsCovid.fr
The recommendations and instructions on how to move around, barrier gestures, areas at risk... continue to apply. Applicable guidelines will be updated regularly on ecampus.
Pedagogical support
A pedagogical support team has been set up: Claude Villard, Racha Hallal, Olivier Berger, Bruno Defude, Michel Simatic, Cécile Narce. It can be reached at aide-distanciel@telecom-sudparis.eu.
Practical resources to support staff in the transition from face-to-face to remote devices are brought together in a Shoodle space "How to provide a distance learning course" (https://shoodle.imtbs-tsp.eu/user/index.php?id=89).
In case of problems or questions :
- about teaching activities, please contact the training department;
- about the organization of your work, please contact your line manager,
- For general information, you can consult the FAQs that will be made available on eCampus and ask your questions on the hotline: info-covid-19@imtbs-tsp.eu
Take care of yourself.