COVID-19 information
On août 20 2022
You will find below the list of measures taken by Telecom SudParis in the context of circulation of the COVID-19 coronavirus on our national territory. In compliance with national guidance, the health protocol applicable since February 2, 2022 is lifted. However, a certain number of recommendations remain applicable within the context of Covid 19 control.
Last updated on 20/08/2022

Mask wearing
Wearing a mask is no longer mandatory either indoors or outdoors, but it is still recommended, especially for at-risk individuals, and in crowded areas where respect for barrier measures is limited, as well as in poorly ventilated/ventilated enclosed areas.
Mask distribution, hydro-alcoholic gel
Masks and gel are still distributed at the reception desk (DIR building), for people who wish to use them (FFP2 masks or surgical masks). The gel dispensers also continue to be filled.
Disinfecting wipes
For services and equipment that require it, the service manager can ask the reception desk to provide disinfectant wipes.
Ventilation
Premises should be ventilated, specifically those shared by several people, by opening doors or windows as much as possible. Whenever possible, the room should be ventilated from two separate points (e.g. door and window).
Rules applicable to positive cases and contact cases
Covid-positive persons are required to report to the Covid referent via the following interface: https://covid.imtbs-tsp.eu/.
For any questions or other requests, you can contact the Covid referent by email: referentcovid@imtbs-tsp.eu.
The rules applicable to positive cases and contact cases are the following: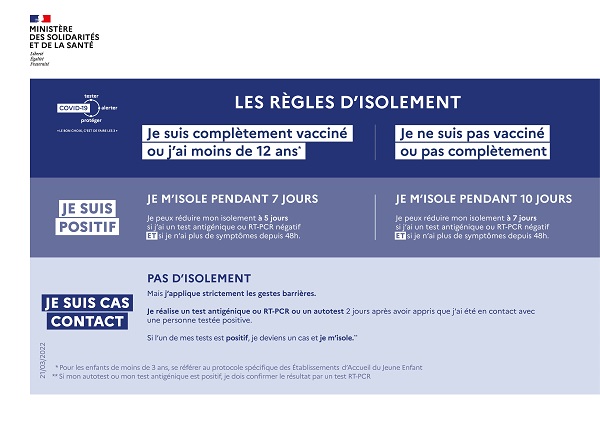 International students and researchers arriving in France
France has taken steps to ensure that you can join Telecom SudParis in complete safety. In light of the latest developments in the pandemic, the port health control system has been discontinued, pursuant to the law terminating the emergency measures instituted to combat the COVID-19 outbreak.
Accordingly, the rules previously applied to travellers to France no longer apply effective from 1 August 2022:
Travellers are now exempt from any formalities prior to entry into France, be it in mainland France or overseas, and no longer required to present a health pass, regardless of the country or place of departure;
Justification of travel (the "compelling reason") is no longer required;
Travellers are no longer required to present a sworn statement of non-contamination and an undertaking to undergo an antigen test or screening upon arrival in the country.
The recommendations and instructions on how to move around, barrier gestures, areas at risk... continue to apply. Applicable guidelines will be updated regularly on ecampus.